What is KolorKode?
KOLORKODE IS THE WORLD'S LEADING COLOUR CODED FILING SYSTEM. FOR MANY YEARS THIS FORMAT OF FILING HAS BECOME INCREASINGLY POPULAR ACROSS A RANGE OF INDUSTRIES, HELPING BUSINESSES STREAMLINE THE PROCESS OF HARD COPY DOCUMENT MANAGEMENT.
The KolorKode Solution is based around the idea of saving time, space and money. We guarantee to reduce the amount of space required to store your files, reduce the amount of time taken to locate and retrieve your files and ultimately save money when it comes to the labour and rental costs associated with your filing system. Over the past 40 years, we have saved our clients literally thousands of dollars and countless hours, through the design of simple yet extremely effective colour coded filing systems.
We understand the frustration of trying to find that file you need. After years of consulting we have developed products, procedures and systems to help alleviate this problem. We also understand that in the modern day office rental rates are at a premium, which is why we know that it literally pays to be smarter with your space. With the right knowledge it is possible to generate more working space within the office, particularly when applying the space saving principals of a Fullvue® Lateral Filing System.
KolorKode is not just a range of filing products, it is a complete solution. We are proud to have consulted with and helped clients from all areas of business with their filing and storage requirements.
THE USE OF COLOURS IN FILING
The colour coding of files is by no means a revolutionary concept, businesses across the World have been using colours in one format or another to categorise their files for many years. In fact, a properly managed and structured colour coded system is probably the greatest cost saving feature that has ever been developed for filing and retrieving paper records.
Coloured files effectively segment the total number of files in your system, resulting in well defined blocks or groups of colour. Because the human eye recognises colours more quickly than text, the use of basic colours on your files significantly reduces the time taken to locate the file you are looking for, whether it is within the system or somewhere around the office.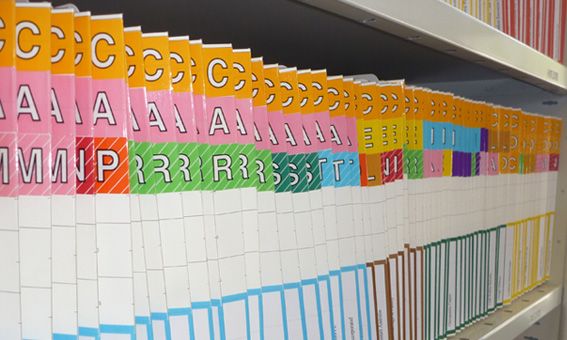 SAVE TIME, SPACE & MONEY
One of the key principals behind the KolorKode Fullvue® Lateral Filing System is extremely simple, save space. Since the height of the room is used more effectively, floor space is saved. With ever increasing property prices and rental rates, space typically means money. The less space used to store files and other office consumables, the more space you have for that extra desk. You can even delay that costly office relocation.
For many years, our mission has been to increase our clients' productivity by saving them the time taken to locate files that are either misfiled or misplaced somewhere around the office. Accumulated over the working day, week and year, the time taken to locate these files costs businesses thousands upon thousands of dollars – after all, time is money! What most of us don't realise is that around 80% of the costs associated with maintaining paper records can be attributed to man-hours. KolorKode has enabled businesses minimise these costs. more information…

WHO USES KOLORKODE?
Listed below are just some of the industries we have worked with over the years:
Accounting
Dental
Education
Engineering
Finance
Government
Hospitals
Insurance
Legal
Medical Specialists
Mining
Pharmacies
Real Estate
Schools
Shires and Councils
Save Time, Space & Money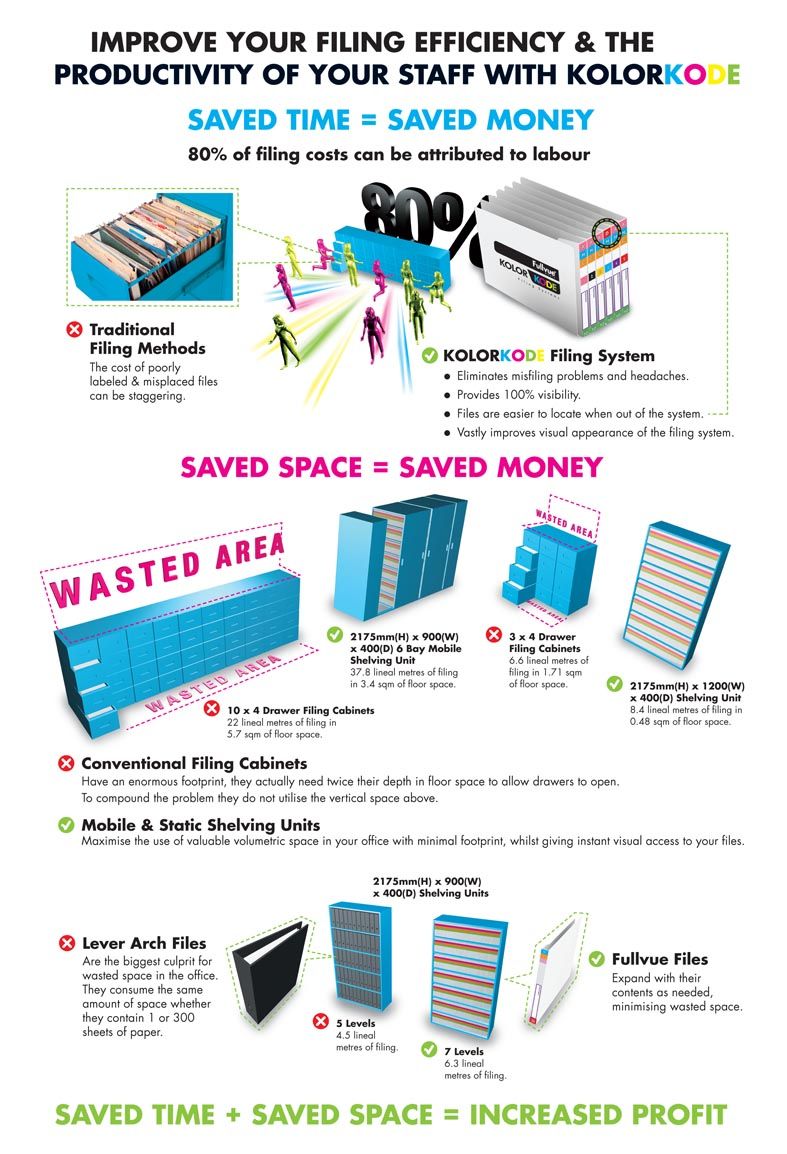 A Brief Product Overview
Our unique range of products include the ingenious design of the Fullvue® lateral/shelf file, along with the unique easy-to-use Quickvue® drawer file. We also offer a complete range of filing accessories and storage solutions to compliment our range of filing products. For further information please see the Products section of this website.
FULLVUE® SHELF FILE
The Fullvue® file is a specially designed ad patented lateral file that has unique end tabs that fold in. The patented design of these tabs not only keeps the paperwork neat, tidy and out of sight, they also enable you to apply the 'KolorKode' label, creating 100% visual control (no other file provides this benefit).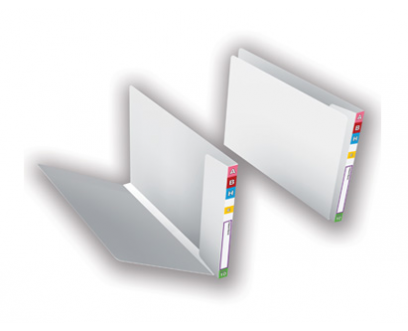 QUICKVUE® DRAWER FILE
The Quickvue® file is a specially designed and patented drawer file that has a fixed top tab to enable KolorKode labeling for fast and efficient filing. The Quickvue® can be used as a replacement for the traditional crystal tab and manila folder handing drawer file systems. Not only is the Quickvue® more cost effective, but it provides a neater and more efficient solution.
KOLORKODE LABELS