Case Studies
Client Testimonials
 Over the years we have helped countless happy customers take the pain out of filing. These testimonials show just some of the positive feedback we have received over time.
Feature Case Study
With an expanding team and very little office space, the management at Paladin Resources were faced with a difficult financial decision, whether or not to make that costly office move. The below factors are just some of the challenges that Paladin and many other businesses face in these circumstances.
Requirement for more office space
Lack of space to move around the office
A need to hire more staff but have nowhere to sit them
Real estate has become costly
Time taken to locate misplaced files costing more and more in administration wages
Very few staff members able to use the existing filing system
The KolorKode Team were tasked to come and assess whether there may be an alternative solution to the dreaded office move. Upon several consultative visits we offered a number of recommendations to the management at Paladin.
The first recommendation was to convert Paladin's bank of 84 four drawer filing cabinets to a much more space and cost effective mobile shelving (Compactus) unit.
The second recommendation was to convert a suspension file and filing cabinet set-up to a more space efficient lateral Fullvue® shelf file set up.

When it came down to the actual time saving part of the job (the filing system), the KolorKode team worked closely with administrative staff at Paladin to formulate the best possible solution. Based on the way that Paladin filed tenements, exploratory and other mining related paperwork, we came up with the perfect solution in the form of a tailored alphabetical Fullvue® lateral filing system.

Before the conversion to KolorKode only 2 out of the 21 staff were able to use the existing filing system, the remaining 19 were not sure how the files were categorised or where to find them. On average it was taking around 3 minutes and 10 seconds to find or replace a file (not taking misfiles into account). After the KolorKode system was installed, all 21 staff members were happy and confident enough to locate and replace files themselves. The average locate and refile time was reduced to just 33 seconds, an improvement of 83% in filing efficiency!
The below figures clearly demonstrate how being smart with your space saved Paladin Resources space and ultimately money.
The Figures:
| | |
| --- | --- |
| Total Amount of Filing Space Available: | |
| 84 x Four Drawer Filing Cabinets (0.55 lineal metros per drawer) | 184.4 lineal metres |
| 1 x Mekdrive Compactus® Mobile Shelving Unit | 504 lineal metres |
| Total Amount of Floor Space Used by Filing Equipment: | |
| 84 x Four Drawer Filing Cabinets at *0.57m2 each | 47.9m2 |
| 1 x Mekdrive Compactus® Mobile Shelving Unit | 28.8m2 |
| Total Cost of Rent for Space Occupied by Filing Equipment: | |
| 84 Four Drawer Filing Cabinets (47.9m2) x *$600m2 | $28,740 per year |
| 1 x Mekdrive Compactus (28.8m2) x *$600m2 | $16,920 per year |
*Filing Cabinet with open drawer (0.63m+0.55m deep (cabinet + open drawer) x 0.48m Wide) = 0.57m2
*Average rental cost in area at time of conversion = $600/m2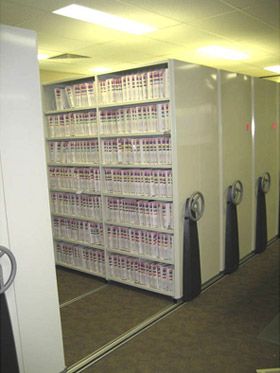 The Final Result
Saved Space
19.1m2 of floor space was saved in Paladin's office. Not only did this mean that they no longer needed to move office, but it enabled Paladin's management to put two new desks in the office to seat two new revenue-earning staff members.
The KolorKode team were able to reduce the amount of total floor space used for filing at Paladin, from 47.9 to 28.8 lineal metres, as well as increase the capacity of available filing space from 184.4 to 504 lineal metres (+ 175%), all within 19.1m2 less floor space!
Saved Time
It terms of the time saving aspect of the actual filing system. As a general rule if you save around 30 minutes filing and retrieving files a day using, the KolorKode system will pay for itself within 6-12 months. Originally on 2 out of the 21 staff were able to confidently use the filing system. Since KolorKode has been installed all 21 staff can use the system. The below figures clearly demonstrate how much easier to use and more efficient the KolorKode Filing System has proven to be for the team at Paladin Resources:
| | |
| --- | --- |
| Average file finding and replacing time (previous) | 3 minutes 10 seconds |
| Average file finding and refiling time (new) | 33 seconds |
| Total improvement in filing efficiency | 2 minutes 37 seconds (83%) |
Saved Money
The long-term financial benefit of this conversion will become more apparent over time. It generally takes between 6 and 12 months of rent savings to cover the cost of the storage solution. This can however be offset by the fact that Paladin were able to employ several new highly skilled staff who were capable of generating a significant amount of revenue, based on the availability of new space in their office.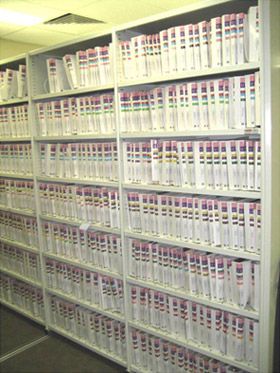 The immediate saving comes down to the total amount of money spent on rent for each of the comparative filing systems. The figures below speak for themselves.
| | |
| --- | --- |
| Total Cost of Rent for Old Filing System – 47.9m2 x $600/m2 | $28,740 per year |
| Total Cost of Rent for KolorKode System – 28.8.9m2 x $600/m2 | $16,920 per year |
| Total Saving | $11,820 per year on floor space alone |
Dale Alcock Homes

"When we moved to new premises we wanted to conserve space and make the best of our office environment. We therefore took the opportunity to adopt the KolorKode filing system. Previously we used lever arch binders to file job related documentation and staff found that they took up a lot of space on their desks and were also cumbersome to handle at times resulting in some of the contents tearing. Misfiling was also a problem as the labeling on the files was not particularly clear.
The KolorKode Fullvue® files were introduced and their lateral tabs colour coded to identify the job number. At the same time we colour coded the files themselves (approximately 1000), to aid in distinguishing between the three main types of client files.
All in all the change has been most successful. Compactus® storage has saved us space, filing is easier, misfiles are rare and the files are clearly distinguishable on the desks of staff. At the time of the change we instructed staff in its use and introduced them to the expected benefits. Staff acceptance has been good and the staff appreciate the ease of use of the new files.
WILSON SECURITY

"Our security business provides mobile patrols, alarm monitoring and static control and we have over 500 employees. We initially changed our employee and mobile patrol filing systems from 4 drawer filing cabinets to KolorKode Fullvue® lateral files, stored in tambour cupboards and a Compactus®.
At the time we took the opportunity to file the mobile patrol files by their computer I.D. number, which worked real well with the KolorKode labels. We continue to file our employee files alphabetically. In both instances filing and file retrieval has been much easier and now there are few misfiles if any making staff using them much happier. We will change some of our other filing collections to the KolorKode filing system in due course as we recognise the benefits it provides."[/fusion_tab][fusion_tab title="APG HOMES" icon=""]
APG HOMES
"When we moved to new premises we needed to reconsider the amount of filing space our filing system occupied. In the old building we used lever arch files. We selected the KolorKode filing system using the wrap around Fullvue® files for our client files, converting all our current client files at the time of the move.
Staff like the file racks that at their workstations, where they can place the files they are using instead of piling them up on their desks. Files not in use are filed laterally on shelves. We found the advice and guidance provided by the KolorKode team really helpful when planning the change, we also find that new stock orders for files etc. always arrive promptly."[/fusion_tab][fusion_tab title="AUSTRALIAN FINANCE" icon=""]
AUSTRALIAN FINANCE


"I would like to take this opportunity to thank you for your assistance with the reorganisation of our filing system.
Our order was completed and supplied in an extremely timely manner and all files were labelled correctly and in accordance with our instructions.
The new system is a big improvement on our previous system of filing cabinets that had so many files contained in them that the drawers were constantly getting jammed.
We had a very smooth transition to our new system, the end result of which we are very happy with, thanks for all your help."
WB FINANCIAL

"We would just like to thank you on behalf of myself and the staff here at WB Financial Management for the assistance you have given us not only with the implementation of the Compactus® filing system but also particularly your patience in working with us in ascertaining what suited us best and what would be most effective for our operation here before we undertook the purchasing of the Compactus® and files from you.
In this day and age where the emphasis is so heavily on the sale itself, it was very refreshing to deal with someone with a very strong approach to service all the way through and in doing so, you assisted us greatly in implementing a system that we are exceptionally happy with.
As you pointed out the changes with regard to the implementation of the filing system and use of the Compactus® have led to much more effectiveness within our practice.
Thank you very much for all your help and we would be more than pleased to offer our services as a referee for you if you have potential clients in the future who would like to hear about the benefits of the Compactus® system and particularly your high level of service.
Please don't hesitate to call or have your prospective clients call us. In the meantime we look forward to working with you and KolorKode for the long term."